Effortless and Delicious Low Carb Stuffed Pepper Soup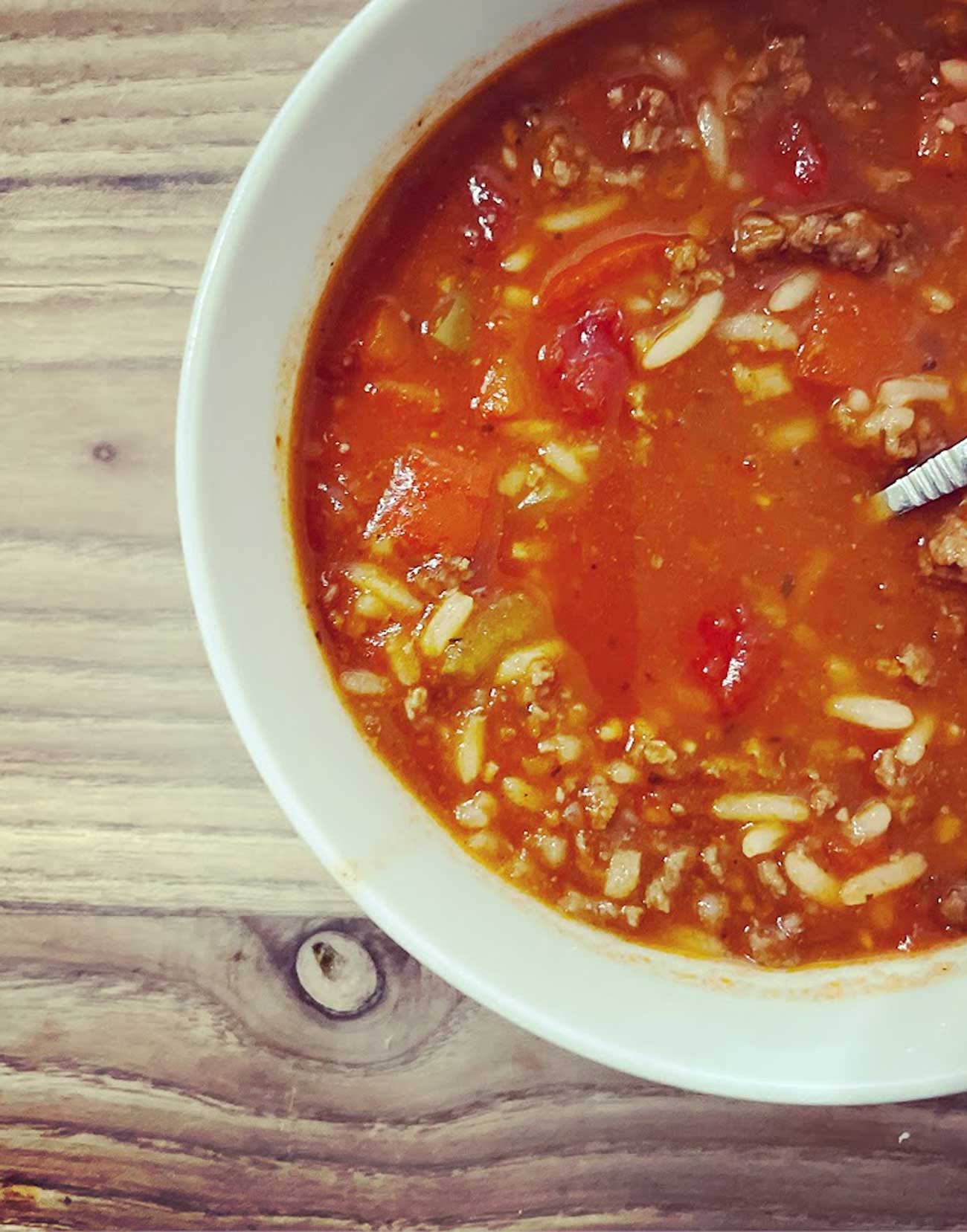 If you're a fan of the comforting flavors of traditional stuffed peppers but could do without the time-consuming process, this recipe is tailor-made for you. We understand that life can get busy, and spending hours in the kitchen might not always be feasible. That's why we've crafted a soup that captures all the essence of classic stuffed peppers, with a fraction of the effort.
Picture this: tender bell peppers, savory ground meat (or a plant-based alternative, if you prefer), aromatic onions and garlic, all simmered together in a rich, tomato-infused broth. Each spoonful of this soup tells a story of flavors melding harmoniously to create a satisfying and heartwarming experience. The best part? You don't need to be a culinary expert to whip up this masterpiece.
Adjust Servings
1

tablespoon olive oil

1

pound ground beef (90% lean or >)

0.75

cup chopped onion

2

teaspoons garlic, minced

0.50

teaspoon of salt

1

teaspoon of black pepper

1

red bell pepper cut into 1/2 inch pieces

1

green bell pepper cut into 1/2 inch pieces

1

14.5 ounce can petite diced tomatoes

1

15 ounce can tomato sauce

2

14.5 ounce can beef broth

2

teaspoons Italian seasoning

2

cups cooked rice or cauliflower rice

2

tablespoons chopped parsley
1.
Heat the olive oil in a large pot over medium high heat. Add the ground beef and cook until browned, breaking up into smaller pieces with a spatula (approximately 5-6 minutes). I honestly leave out the olive oil by personal choice and it does just fine.
2.
Add the onion to the pot and cook for 4-5 minutes or until softened. Add the garlic and cook for 30 seconds.
3.
Season the beef and onion mixture with salt and pepper.
4.
Add the bell peppers to the pot and cook for 2-3 minutes.
5.
Add the tomatoes, tomato sauce, beef broth and Italian seasoning to the pot; bring to a simmer.
6.
Cook for 15-20 minutes or until peppers are tender.
7.
Stir in the cauliflower rice and season the soup with salt and pepper to taste as desired. Sprinkle with parsley and serve.