Calabacitas con Carne Molida en Salsa Verde: A Flavorful Mexican Dish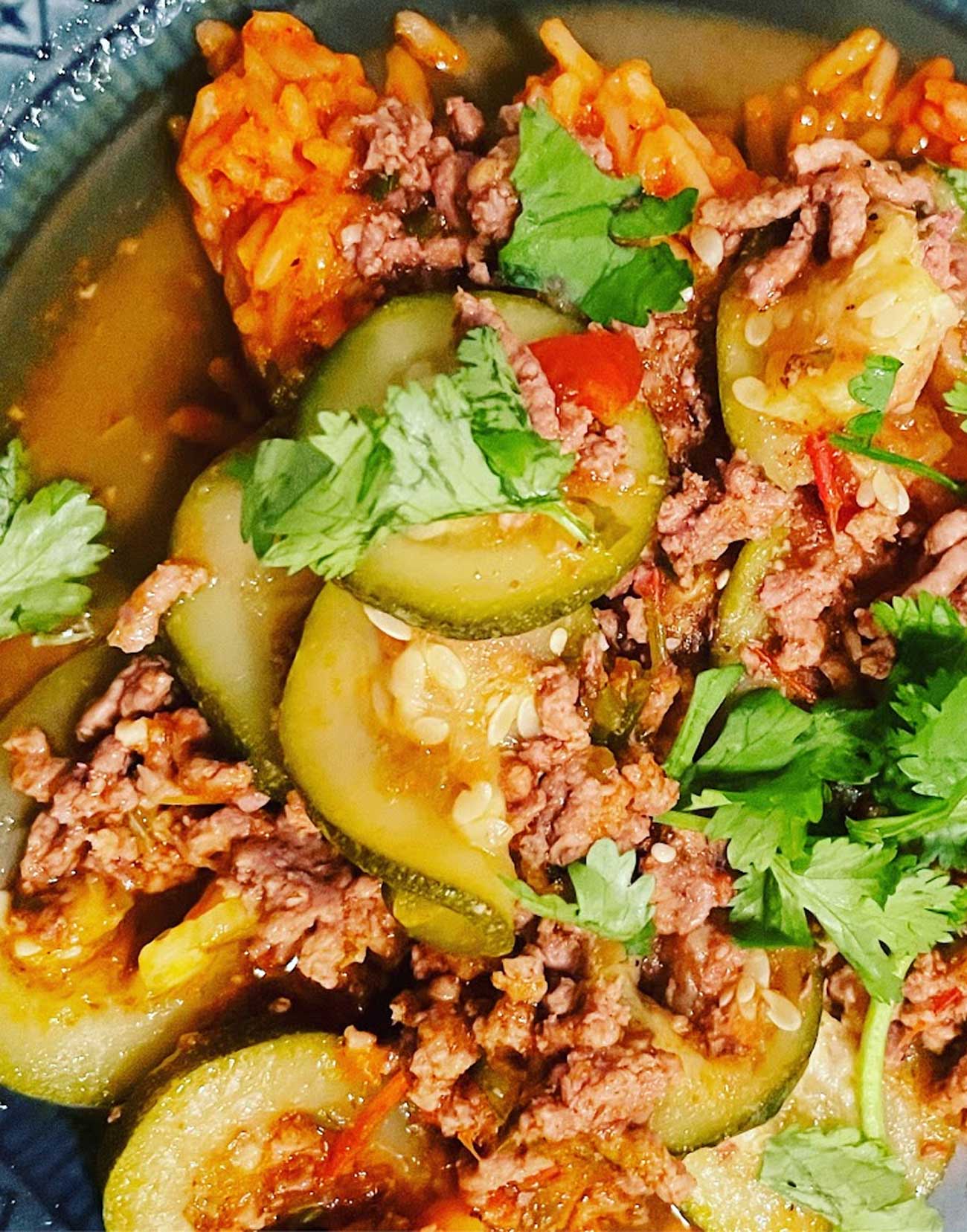 Translation: Zucchini with Ground Meat in Green Sauce
Are you ready to savor the authentic flavors of Mexico? Calabacitas con Carne Molida en Salsa Verde is here to tantalize your taste buds. With tender ground meat and zucchini immersed in a zesty green sauce, this dish takes you on a journey through Mexican cuisine with every mouthful. Let the vibrant flavors and textures envelop you in a delicious embrace. Experience a symphony of tastes that only this classic dish can provide. It's time to treat yourself—you deserve this!
Adjust Servings
2

pounds 90/10 ground beef

0.25

teaspoon salt

1

teaspoon onion powder

0.50

teaspoon pepper

1.50

cups of water

1

tablespoon of chicken bouillon powder

4

medium zucchinis, sliced 1/8″ thick or cut in chunks if preferred

2

serrano chiles, stems removed

Spanish rice if desired, cauliflower rice for a low carb version
Salsa Verde
3

tomatoes

4

tomatillos

3

serranos chiles, stems removed

2

garlic cloves

handful of cilantro
1.
Cut up in big chunks 3 tomatoes, 4 tomatillos, 3 serranos chiles and boil. (No water needed). With wooden spoon break up chunks. Once broken down and hot place in blender with 2 garlic cloves and a handful of cilantro. Blend until mixed. Set aside..
2.
Brown in its own fat, 2 pounds of 90/10 ground beef with garlic salt , onion powder, pepper and a couple serrano chiles.
3.
Drain as much oil as possible and add salsa verde, zucchini, 1 1/2 cups of water, 1 tablespoon of chicken bouillon powder, and salt if needed.
4.
Cover and simmer on low for 40 minutes or until zucchini is done…we serve over Spanish rice! Garnish with cilantro.
I love topping with shredded Mexican cheese. Yum!