One-Pot Taco Spaghetti: An Ultimate Fusion of Mexican and Italian Flavors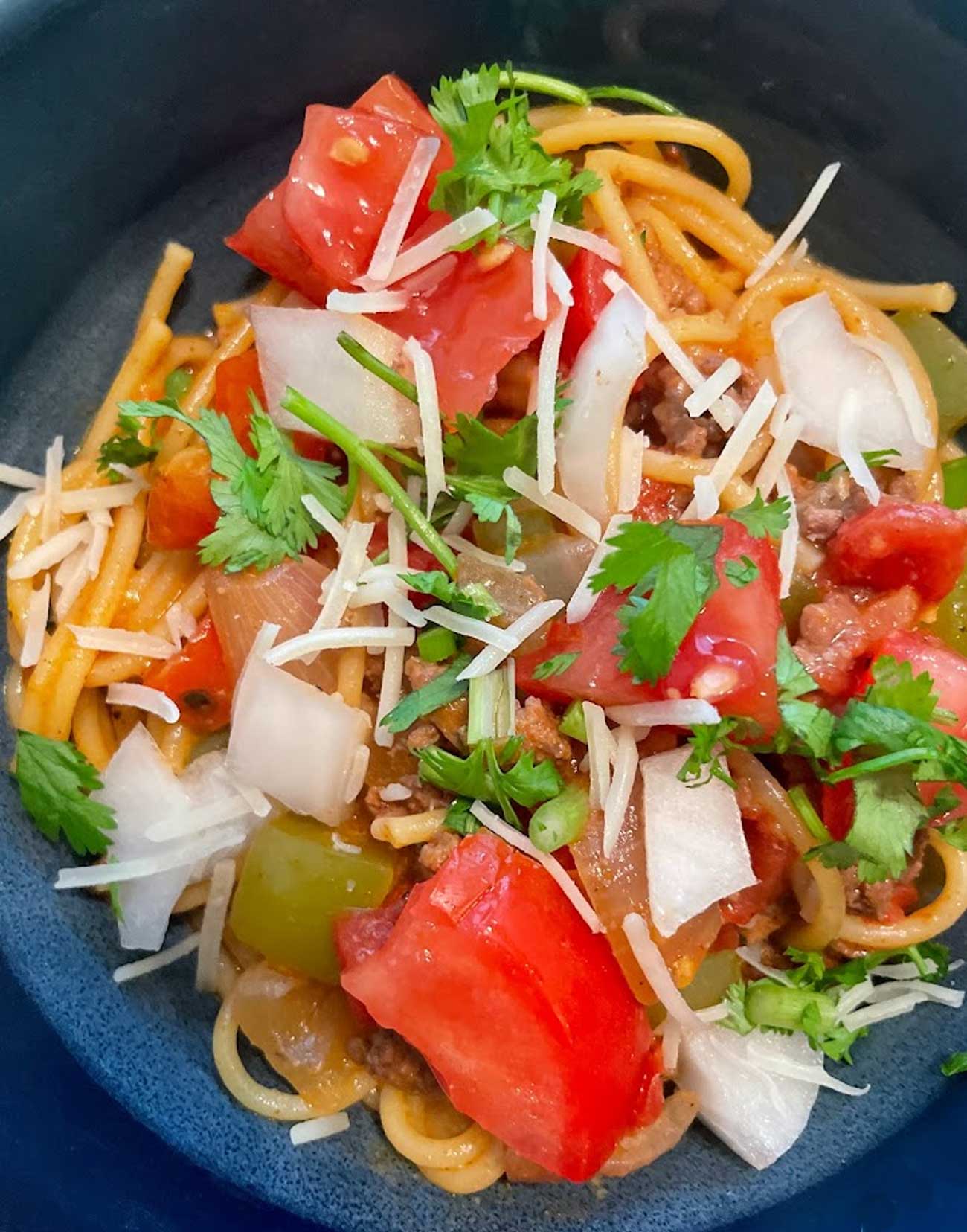 30 minutes
easy
4 servings
Are you craving a delightful and effortless meal? Look no further than our One-Pot Taco Spaghetti recipe, designed to treat your taste buds and make your cooking experience a breeze. Imagine a dish where you can enjoy the harmonious blend of Mexican-inspired spices and comforting Italian pasta in just one pot – yes, we're talking about less cleanup for you! From the moment you start sautéing the meat, you'll notice the tantalizing aroma that whisks you away to the vibrant streets of Mexico. As you stir in the pasta and watch it absorb the rich, seasoned flavors, you'll realize how this recipe takes care of your cravings while keeping things uncomplicated. Once everything is cooked to perfection, a hearty and satisfying meal is ready for you to savor. Treat yourself to the best of both worlds with our One-Pot Taco Spaghetti, and let your inner food enthusiast rejoice in every delicious, easy-to-make bite!
Adjust Servings
1

pound ground beef

0.50

cup diced yellow onion (more for garnish)

1

packet of taco seasoning (if preferred, spicy)

1

tablespoon tomato paste

10

oz canned diced tomatoes

8

oz dried spaghetti noodles

3

cups water

0.50

cup shredded cheddar cheese

0.50

cup shredded mozzarella cheese

fresh parmesan cheese for garnish

1

roma tomato, diced (more for garnish)

2

tablespoons chopped fresh cilantro (more for garnish)
1.
In a large stockpot, over medium-high heat, combine ground beef, onion, and taco seasoning. Cook, breaking up the beef with a wooden spoon, until the meat is browned, 3–5 minutes. Stir in the tomato paste and canned diced tomatoes.
2.
Add the spaghetti and water. Bring to a boil, then cover, reduce the heat to medium-low, and simmer until the pasta is cooked through, about 15 minutes.
3.
Remove the pot from the heat and add the cheddar cheese, mozzarella cheese, diced Roma tomato, and cilantro. Stir until the cheese is melted. Add extra cheese if desired.
4.
Serve immediately, garnished with more Roma tomato, onion, fresh parmesan cheese, and cilantro.