Picadillo Con Papas: A Mouthwatering Ground Beef and Potato Stew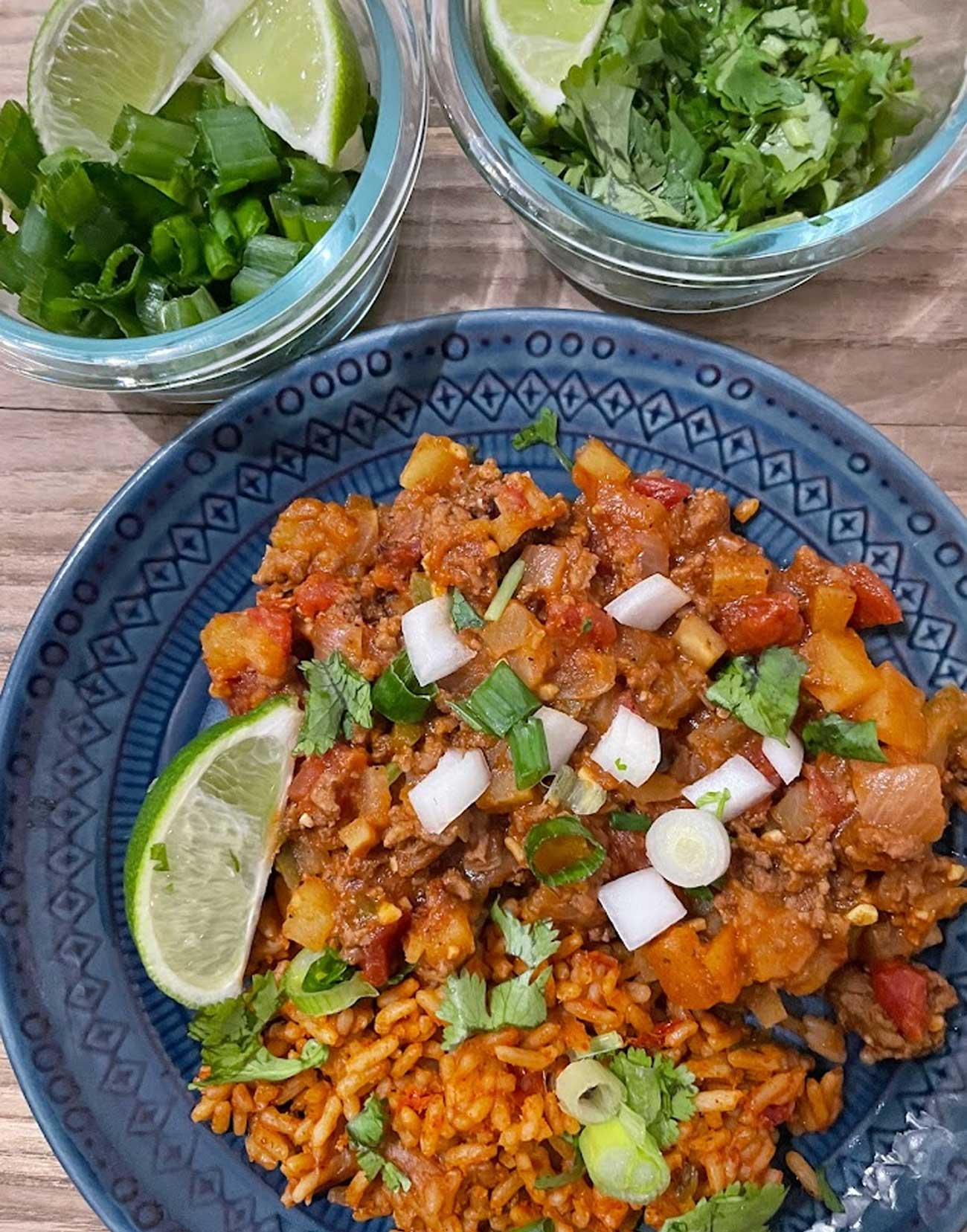 When you savor a dish like picadillo con papas, you'll quickly discover the mouthwatering magic that happens when you combine tender ground beef with hearty potatoes. You won't be able to resist the delicious flavors that emerge from this culinary marriage. Whether you're a seasoned cook or just starting your culinary journey, this comforting stew is a must-try. You'll find yourself coming back for more, unable to resist the irresistible taste of this classic comfort food.
Indulge in the irresistible delight of Picadillo Con Papas – a symphony of flavors where tender ground beef meets hearty potatoes. Perfect for a cozy night in! 😋🥔🍖 #ComfortFood #FoodieFavs
Adjust Servings
1

pound ground beef (90/10)

0.50

white onion, diced

1

green bell pepper, diced

2

tablespoons minced garlic

1

medium russet potato, chopped (small pieces)

1

(10.5 oz can) diced tomatoes and chilies

1

(8 oz can) tomato sauce

1

packet of taco seasoning (or 2 tablespoons)

1

teaspoon cumin

chopped cilantro (for garnish)

chopped green onions (for garnish)
1.
Brown the ground beef in a skillet over medium heat. Break up the ground beef and cook until it is no longer pink. Drain excess fat.
2.
In the same skillet as the ground beef, add the chopped onions and bell pepper.
3.
Stir the onions, bell peppers, and browned ground beef until the onions are softened, transparent. Add the minced garlic and stir for about a minute.
4.
Add diced potatoes to the mixture. It is very important that the potatoes are cut into very small pieces so they will cook through. If you use thicker potato chunks you may have to start cooking the potatoes before you brown the ground beef. Personally, I like to dice the potatoes so the pieces are about the same as the chopped onions.
5.
Add the diced tomatoes and chiles (with liquid), tomato sauce, taco seasoning and cumin. Stir.
6.
Cover and simmer for about 40 minutes until potatoes are done. Garnish with chopped cilantro or chopped green onions before serving.