Cajun Shrimp Fettuccine Alfredo: A Spicy Twist on Classic Pasta Delight!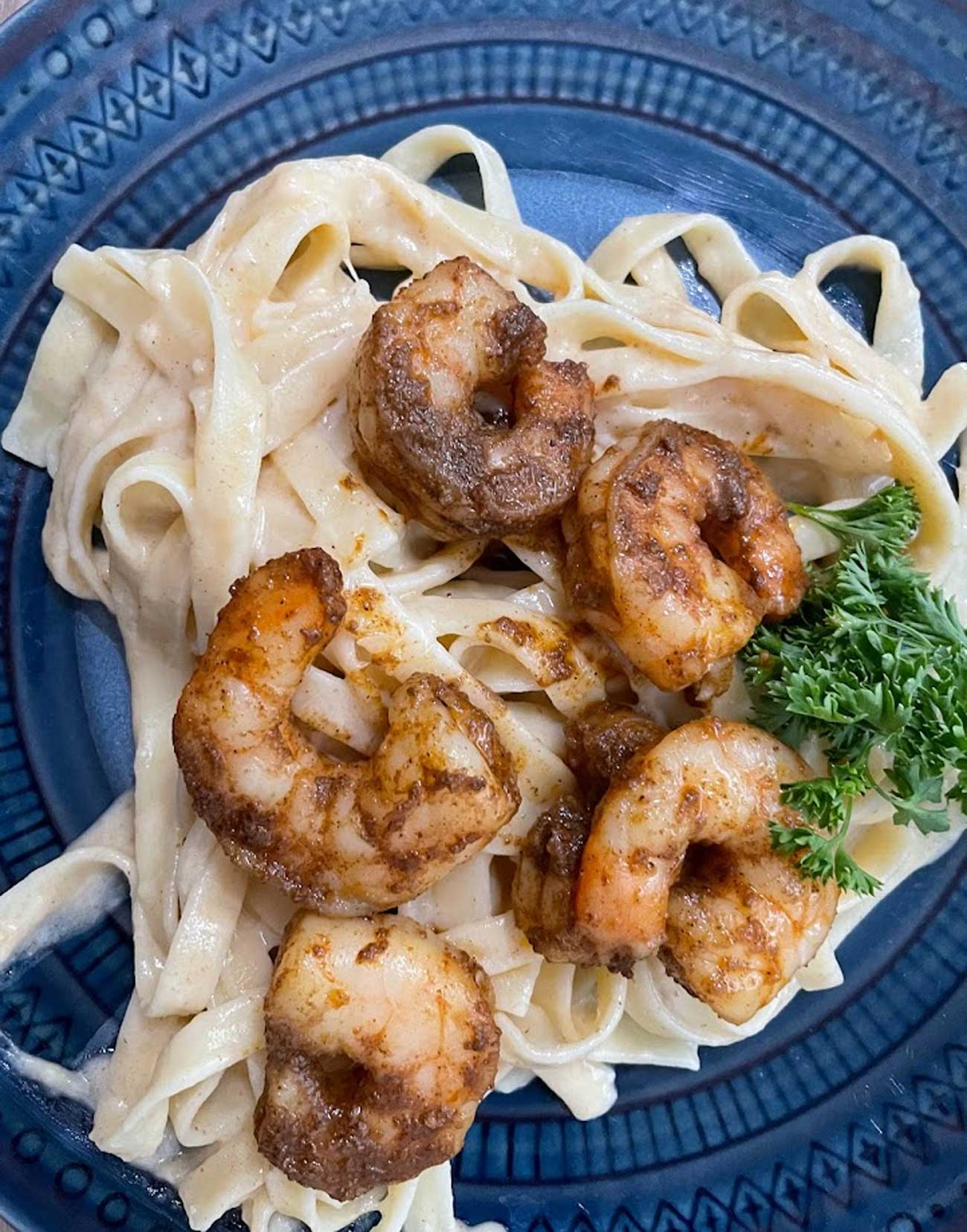 30 minutes
medium
4 servings
Welcome to our culinary journey where we explore the delightful fusion of flavors in our Cajun Shrimp Fettuccine Alfredo recipe. Prepare to embark on a taste adventure that combines the best of two worlds: the richness of classic Italian pasta and the bold, zesty kick of Cajun spices.
In this mouthwatering dish, succulent shrimp take center stage, perfectly complementing the smooth and creamy Alfredo sauce. The addition of a well-balanced Cajun spice blend elevates the entire experience, infusing the dish with just the right amount of heat and a tantalizing depth of flavor.
Whether you're a seasoned fan of Cajun cuisine or a lover of traditional pasta dishes, this recipe promises to satisfy your taste buds and awaken your culinary senses. So gather your ingredients, prepare your taste buds for a delightful adventure, and get ready to create a meal that will impress both friends and family.
Get ready to experience Cajun Shrimp Fettuccine Alfredo: A Spicy Twist on a Classic Pasta Delight! Your taste buds will thank you. Let's dive in!
Adjust Servings
1

pound medium shrimp, peeled and tails removed,

1

tablespoon cajun seasoning

4

tablespoons butter

1

teaspoon olive oil

1

tablespoon minced garlic

3

tablespoons all-purpose flour

2

cups whole milk

8

ounces fettuccine noodles

2

cups reserved pasta water

1

cup freshly grated parmesan cheese

1

teaspoon salt

8

sprigs of parsley (optional)
1.
Cook fettuccine noodles according to package directions. Drain (*Reserve 2 cups pasta water*), toss with a bit of olive oil, and set aside.
2.
In a large skillet melt 1 tablespoon butter. Stir in 1 teaspoon olive oil.
3.
Add shrimp to the skillet and sprinkle Cajun seasoning all over the shrimp, then stir for 4-7 minutes until shrimp is opaque.
4.
Use tongs or a slotted spoon to transfer shrimp to a dish and cover to keep warm.
5.
Without cleaning out the skillet, melt butter over medium heat. Stir in garlic for 1 minute til fragrant.
6.
Stir in flour for 1 minute. Gradually whisk in milk, then reserved pasta water.
7.
Add parmesan cheese and salt and stir until parmesan is dissolved. Taste, add salt and pepper if needed.
8.
Add cooked fettuccine noodles to the skillet and return shrimp to the skillet. Give it a good toss.
9.
Garnish with chopped parsley and additional grated parmesan if desired, and serve.