Fresh Spring Rolls With Spicy Peanut Sauce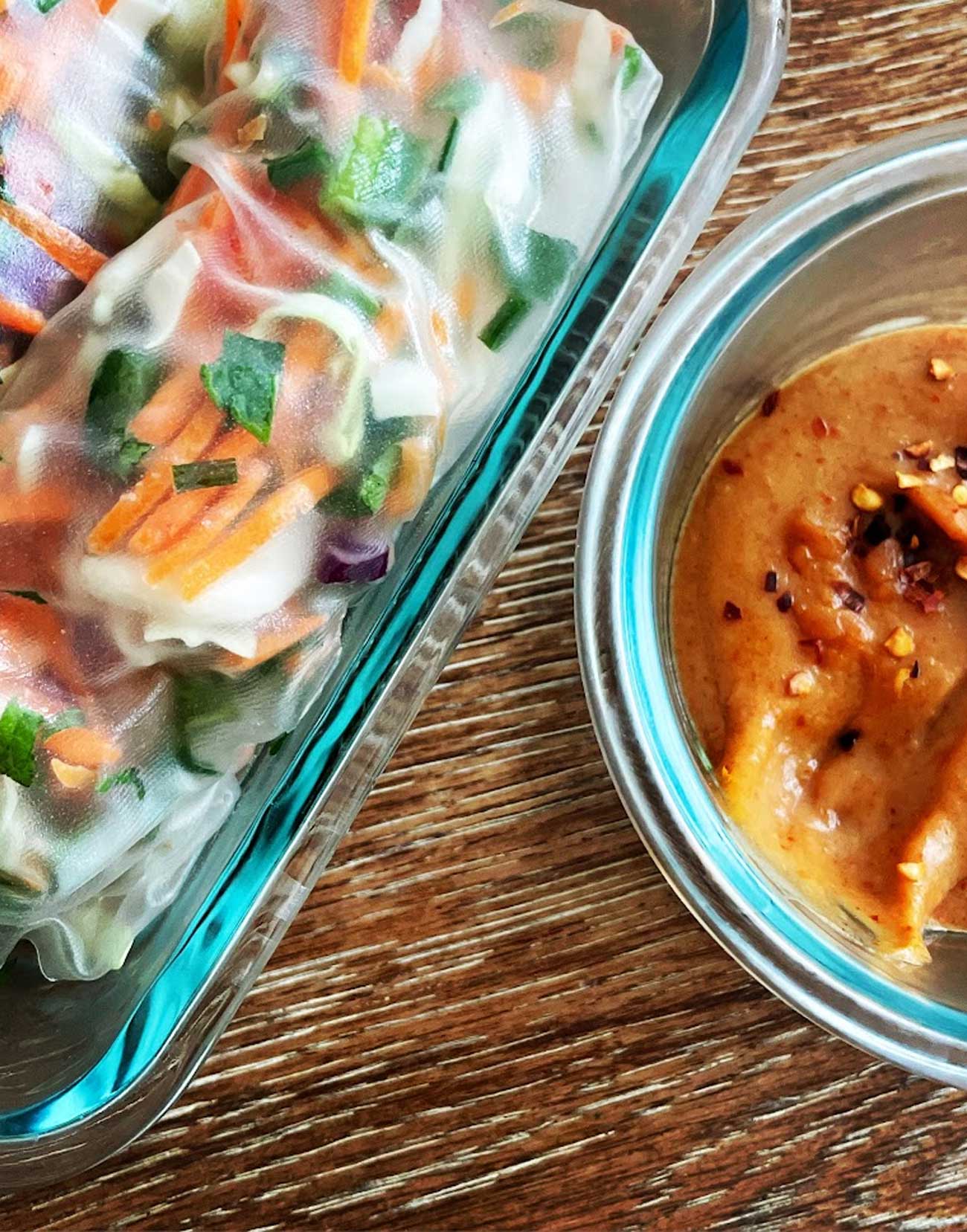 Spring rolls are a delightful appetizer that combines fresh vegetables, herbs, and even protein, all wrapped in a delicate rice paper wrapper. Served alongside a spicy peanut sauce, they become an irresistible treat that bursts with vibrant flavors and textures. This recipe will guide you through creating these delightful spring rolls, perfect for any gathering or as a light and refreshing snack.
Adjust Servings
13

oz bag of Asian chopped salad kit

1

small cucumber, thinly sliced

2

medium jalapeños, seeds removed, thinly sliced

0.25 cup roughly chopped fresh mint

cup roughly chopped fresh mint

8

sheets rice paper
Spicy Peanut Sauce
0.75

cup coconut milk

2

tablespoons red curry paste

0.33

cup natural peanut butter

1

teaspoon salt

0.25

cup water

1

tablespoon apple cider vinegar

0.25

cup packed brown sugar
1.
Spring Rolls
Combine all filling ingredients in a large bowl.
2.
Fill a shallow pan with enough water to cover the bottom of the pan. Keep a clean cutting board nearby to assemble your spring rolls.
3.
Place one rice paper in the water and let it rest for about 20 seconds or so. Carefully lay wet rice paper on cutting board.
4.
Fill the rice paper with ingredients leaving about 1 inch of open rice paper around the edges.
5.
Fold and roll rice paper like you would a burrito.
6.
Repeat all above steps until enough rolls are made for your number of servings.
7.
Spicy Peanut Sauce
Combine all the ingredients in a saucepan and heat over medium heat. Whisk as it heats to combine all the ingredients and dissolve the sugar. Bring to a low boil and cook for another couple of minutes. Best served warm or as you desire.
Optional: Add extra ingredients as you desire. I love extra cilantro. Use wantons in chopped salad kit if you'd like to add some crunch.