The Best {Crockpot} Minestrone Soup For Hearty Comfort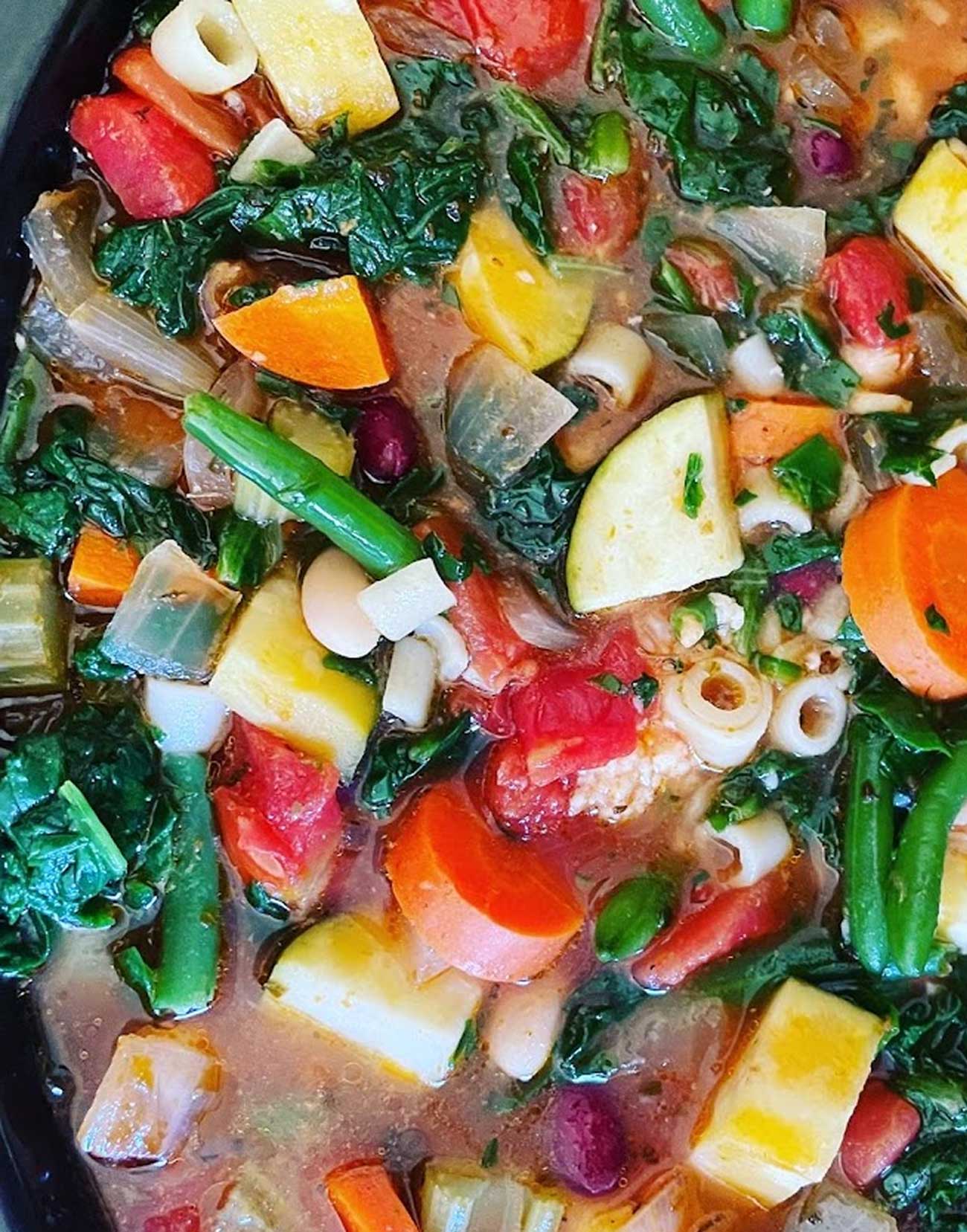 4 hours 35 mintues
medium
6 servings
Looking for a cozy, comforting meal that's tailor-made for you? Dive into the best homemade minestrone soup, where every spoonful is designed to warm you up and make you feel right at home. From the moment you take that first taste, you'll discover a symphony of flavors that cater to your craving for hearty comfort. Whether you're enjoying it on a chilly evening or simply seeking a satisfying dish, this minestrone soup is the recipe for you.
Adjust Servings
2

cans (14.5 oz) diced tomatoes

2

tablespoons tomato paste

0.25

cup sun-dried tomato pesto

1

parmesan rind (approx. 3 oz)

4

cups vegetable stock

2

cups water

2

medium carrots, diced

3

small-medium celery stalks, diced

1

white onion, diced

4

cloves garlic, minced

1

teaspoon dried oregano

1

teaspoon rosemary, crushed

2

bay leaves

1.50

tablespoons salt

1

teaspoon black pepper

1

can (15 oz) red kidney beans, drained and rinsed

1

can (15 oz) great northern beans, drained and rinsed

2

medium zucchinis, diced

1.50

cups tubular (ditalini) pasta

1

cup frozen green beans, thawed

2.50

cups baby spinach, chopped

Finely shredded Parmesan cheese, for serving
1.
Add the diced tomatoes, tomato paste, tomato pesto, parmesan rind, vegetable stock, water, carrots, celery, onions, garlic, oregano, rosemary, and bay leaves, salt, and pepper to a slow cooker. Cook on low heat 6-8 hours or high 3-4 hours.
2.
Add in red kidney beans, great northern beans, zucchini, and pasta and cook on high heat for an additional 20- 25 minutes until pasta is tender.
3.
Stir in the spinach and green beans and cook for an additional 5 minutes until heated through. Serve warm topped with parmesan cheese.