World's Best: The Ultimate Fire-Roasted Tomato Bisque Soup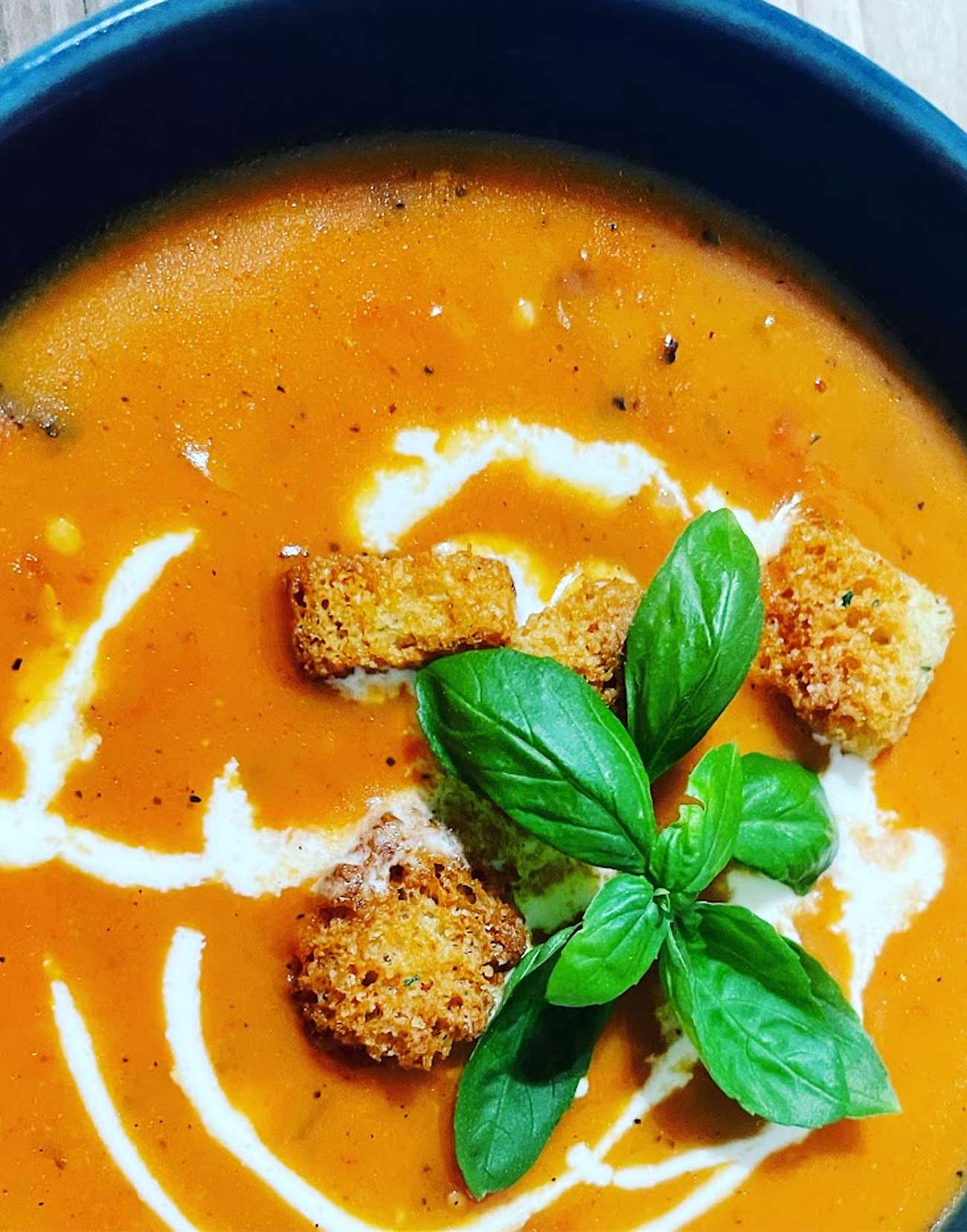 45 minutes
medium
4 servings
Picture this: you, nestled in your favorite cozy spot, a warm bowl of the world's best fire-roasted tomato bisque in front of you. You take that first spoonful, and you're transported to a realm of rich, smoky flavors that only the finest fire-roasted tomatoes can provide. The creamy texture envelops your palate, leaving you craving more with every savory bite. It's a culinary journey you won't forget, and it's all about you, relishing the ultimate bisque experience.
Adjust Servings
4

tablespoons butter, divided

1

medium onion, finely chopped

1

medium carrot, finely chopped

1

celery rib, finely chopped

2

garlic cloves, finely chopped

3

tablespoons all-purpose flour

4

cups chicken stock (32 oz)

2

(14.5 oz) cans diced fire-roasted tomatoes, drained or plain diced tomatoes if you prefer

3

tablespoons tomato paste

2

teaspoons sugar

0.25

cup heavy cream

salt and ground white pepper to taste

garlic or cheese croutons, for garnish

fresh basil, for garnish
1.
In a dutch oven, melt 2 tablespoons of butter. Add onion, carrot, celery, and garlic; cover and cook over medium-high heat, stirring occasionally, until vegetables are beginning to brown.
2.
Sprinkle flour over vegetables and stir over low heat for 1 minute, or until the flour is fully incorporated.
3.
Add chicken stock, tomatoes, tomato paste, and sugar and bring to a boil. Partially cover and cook soup over medium heat, stirring occasionally, until vegetables are tender, 15 minutes.
4.
Transfer half of the soup or more to a blender and puree until smooth.
5.
Return puree to the dutch oven, add heavy cream, and cook until the soup is just heated through. Season the soup with salt and white pepper and swirl in the remaining 2 tablespoons of butter. Garnish with croutons and fresh basil. Serve.