The best crockpot Indian-spiced chili you'll never forget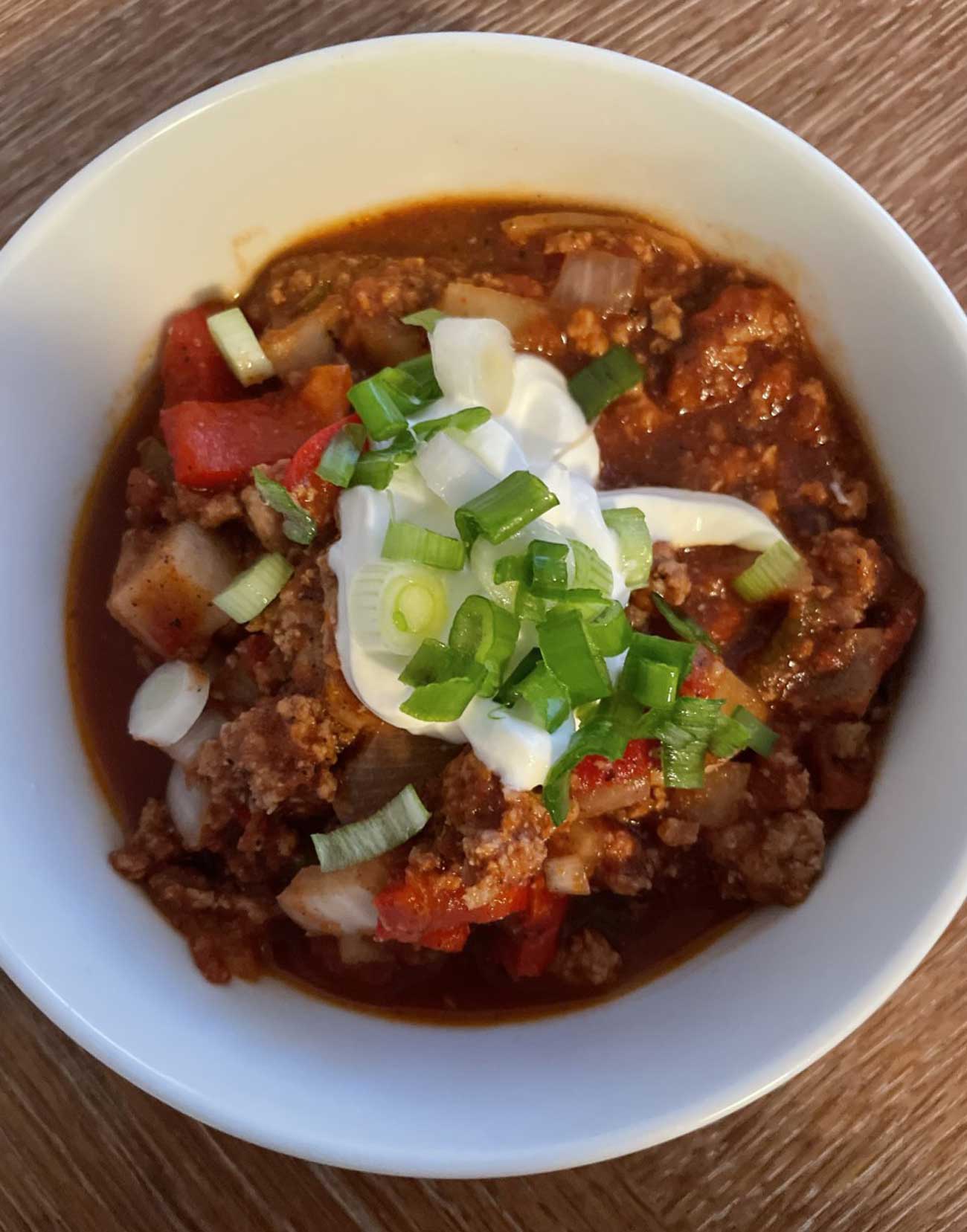 10 minutes
easy
6 servings
You'll never want it any other way when you try this crockpot Indian-spiced chili. All ingredients are healthy for diabetics unless you wish to omit the starchy potatoes. I honestly don't konw if I can have the traditional American chili ever again after having this Indian-spiced version. But I'll let you be the judge of that…
Top with green onions, jalapeños, and sour cream or greek yogurt before serving.
Those that can enjoy it with tortilla chips, they make a great contribution to the recipe.
If you decide to add the jalapeños, note it is much spicier the next day.
Featured image shows red bell peppers but I prefer green.
Adjust Servings
2

pounds ground turkey, seasoned with salt & pepper

I do not drain

28

ounces crushed tomatoes

16

ounces tomato sauce

2

medium potatoes, diced

1

small-medium white onion, diced

1

green bell pepper, chopped

2

garlic cloves, minced

2

tablespoons garam masala

1

teaspoon chili powder

1

teaspoon cumin

1

teaspoon salt

0.50

teaspoon coriander

0.50

teaspoon pepper

1

tablespoon extra virgin olive oil

2

fresh jalapeños, deseeded, diced (optional)
1.
Cook ground turkey
In a large skillet over medium heat, cook the ground turkey until no longer pink.
2.
Combine ingredients
Add ground turkey along with all other ingredients to the crockpot. Stir to mix well.
3.
Cook
Cook HIGH 2-3 hours or LOW 4-6. We usually cook on HIGH for 3 hours but just make sure your potatoes are tender.