Authentic Philly Cheesesteak Recipe: Delicious and Easy to Make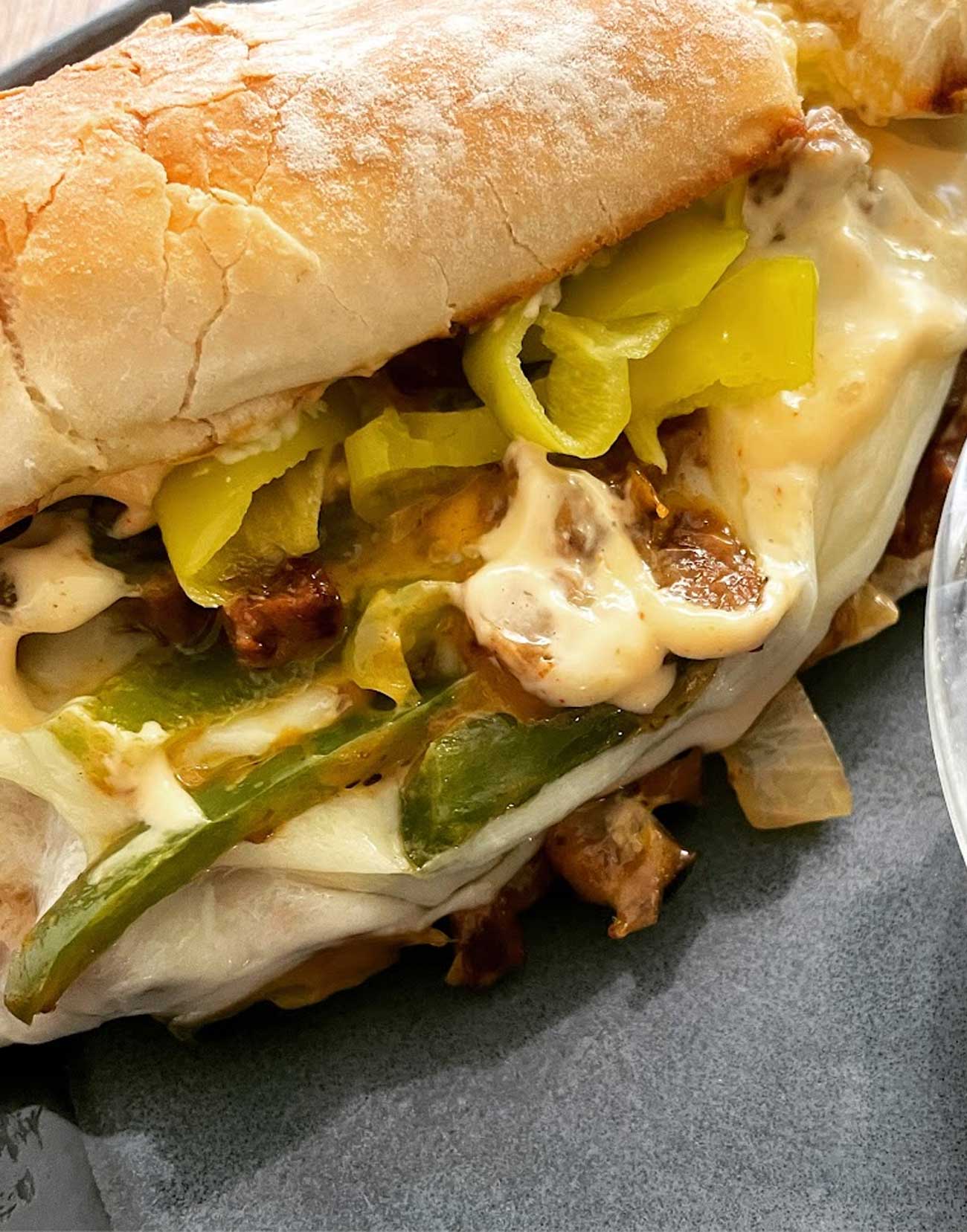 25 minutes
easy
4 servings
Welcome to our irresistible Philly cheesesteak recipe, where we're about to embark on a journey of flavor and satisfaction. Originating from the streets of Philadelphia, this iconic sandwich has captivated the hearts and palates of food enthusiasts around the world. Brace yourself for a tantalizing combination of tender beef, melted cheese, and sautéed onions, all tucked within a perfectly toasted roll.
Picture yourself taking a bite into thinly sliced, juicy beef, seared to perfection and bursting with savory goodness. As the beef mingles with the molten cheese, it creates a harmonious symphony of flavors that will make your taste buds dance with delight. And the caramelized onions, with their sweet and savory notes, add an extra layer of complexity that takes this sandwich to a whole new level of culinary bliss.
But this isn't just any sandwich—it's a Philly cheesesteak. It's a symbol of tradition, pride, and a shared love for good food. And now, with our easy-to-follow recipe, you have the opportunity to bring this legendary creation into your own kitchen.
Whether you're a seasoned home cook or a beginner in the culinary realm, our Philly cheesesteak recipe is designed to guide you effortlessly through the process. With a handful of simple ingredients and a few expert tips, you'll be able to recreate the magic of a genuine Philadelphia experience right at your dining table.
So, roll up your sleeves, grab your skillet, and get ready to indulge in one of the most beloved sandwiches known to man. It's time to savor the flavors and create memories with each bite of our mouthwatering Philly cheesesteak. Let's dive in and discover the true essence of this culinary masterpiece!
Adjust Servings
1.50

pounds of ribeye, thinly sliced

1

tablespoon olive oil

1

large onion, long thin slices

2

green bell peppers, long thin slices

1

poblano pepper, deseeded, thinly sliced

0.75

cup grated sharp cheddar cheese

0.33

cup chopped pimento peppers (optional)

8

provolone cheese slices

4

hoagie rolls or sausage roll buns

1

packet McCormick au jus gravy mix
Spicy Mayonnaise
0.50

cup mayonnaise

0.50

tablespon Tapatío hot sauce or sriracha

0.50

tablespoon lime juice, or lemon juice

0.50

teaspoon cajon seasoning, or taco seasoning
1.
Spicy Mayonnaise
Whisk all the ingredients in a small bowl.
2.
Cover and refrigerate until ready to use.
3.
Philly Cheesesteak
Open and butter rolls. Place rolls in the oven on broil for about one minute. Check often as they will burn fast. Remove rolls and set aside. Then set oven to warm.
4.
Heat 1 teaspoon olive oil over in a large skillet over medium-high heat. Add meat to skillet. Cook until no longer pink, chopping up meat with spatula as you cook. Or chop on cutting board before cooking.
5.
Grab the packet of au jus gravy mix and follow directions to prepare gravy.
6.
Add one tablespoon olive oil over medium-high heat. Add peppers and onion and cook 6-8 minutes or until softened, carmelized.
7.
Add cheese, 1 tablespoon spicy mayonnaise, pimentos (optional). Stir just until cheese begins to melt, about 1 minute. Season with salt and pepper to taste.
8.
Spread each half of rolls with spicy mayonnaise. Evenly divide beef mixture between bottom buns then top each with 2 slices provolone cheese. Bake on warm rolls open faced for 5 minutes or until cheese is completely melted. Close buns after removing from oven and enjoy! Don't forget your au jus dipping gravy.