Creamy mushroom and onion soup to end your day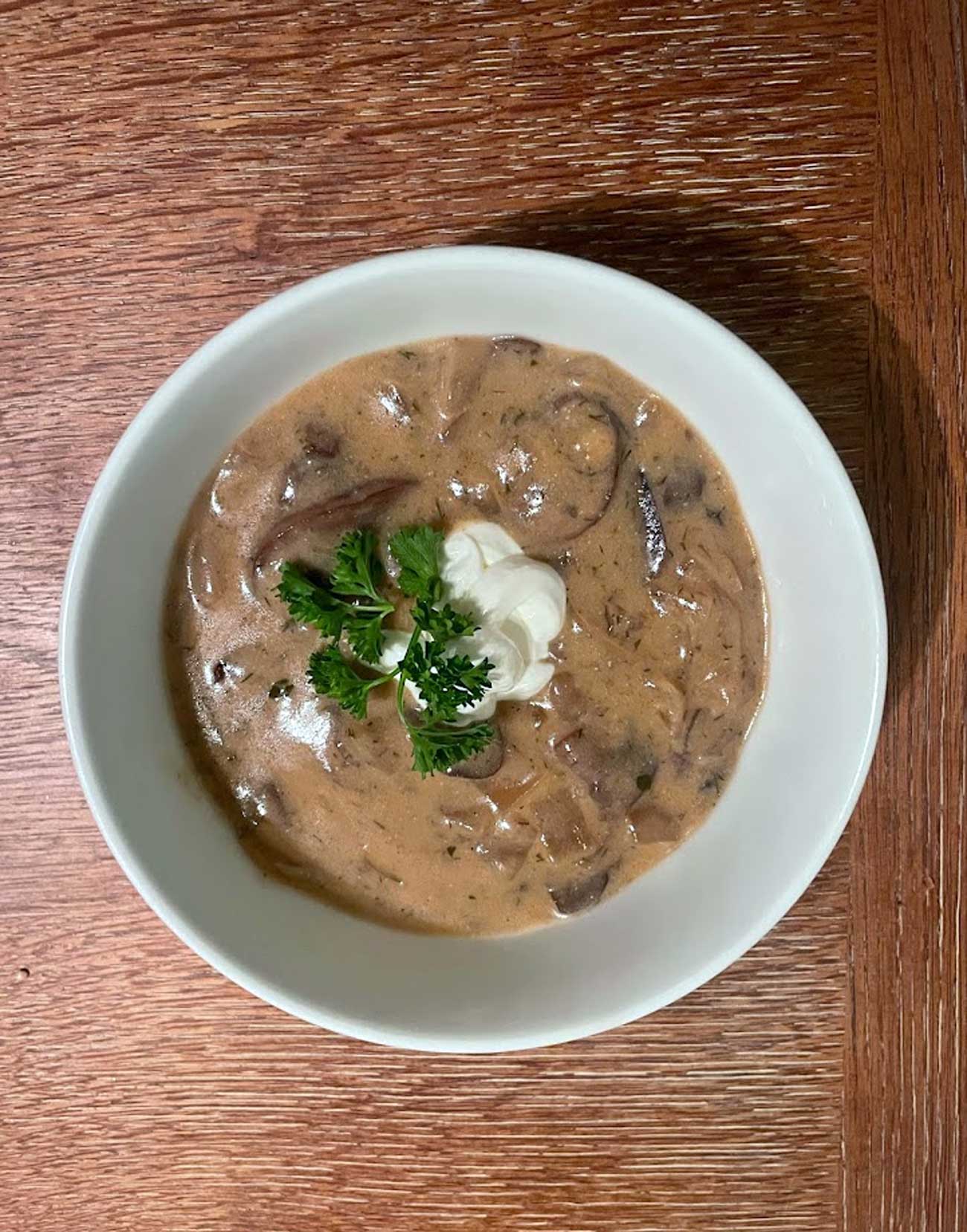 15 minutes
super easy
5 cup servings
Also called a Hungarian mushroom soup.
This recipe has to be hands down one of my favorite recipes. The creaminess and flavors just leave you with wanting more. I thought the dill might be too much after smelling the seasoning before adding it to the soup, but no way. Would make this recipe the same way over and over again. I always limit my salt as to not over salt the soup but feel free to add more seasoning as needed to suit your taste buds.
Our family serves this soup in cups along with some grilled chicken and sauteed green beans. My family just so happens you can't just have soup for dinner, go figure. I'm the odd one out on that one. I say have it as your sole dish for dinner.
Adjust Servings
4

tablespoons

unsalted butter

1

large yellow onion, chopped

16

oz

crimini mushrooms

2

cups low sodium, chicken stock

0.50

cup dry white wine, cabernet sauvinon

2

teaspoons dried dill

2

teaspoons minced fresh thyme leaves

2

teaspoons

paprika

2

tablespoons

worcestershire

2

teaspoons

kosher salt

3

tablespoons

all-purpose flour

1

cup

whole milk

0.25

cup

sour cream

1

tablespoon

lemon juice, from 1 lemon

2

tablespoons

fresh Italian parsley
1.
Cook onions and mushrooms
Melt butter in a large pot over medium heat. When the butter is melted, add onions and mushrooms and cook, stirring occasionally, until onions are soft and translucent, about 8 minutes. Add the stock, white wine, dill, thyme, paprika, worcestershire and salt. Bring to a boil over high heat. Reduce to a simmer over low heat and cook, stirring occasionally, about 10 minutes.
2.
Prepare thinkening mixture
In a small bowl, whisk flour into the milk until smooth. Add the milk mixture to the soup and cook, stirring occasionally, until the soup begins to thicken, about 10 more minutes.
3.
Stir in remaining ingredients
Over low heat, slowly stir in the sour cream, and one tablespoon freshly squeezed lemon juice.
4.
Add topping and serve
Top with fresh parsley to serve.