Tantalizing Tofu Stir-Fry: Quick, Healthy, and Bursting with Flavor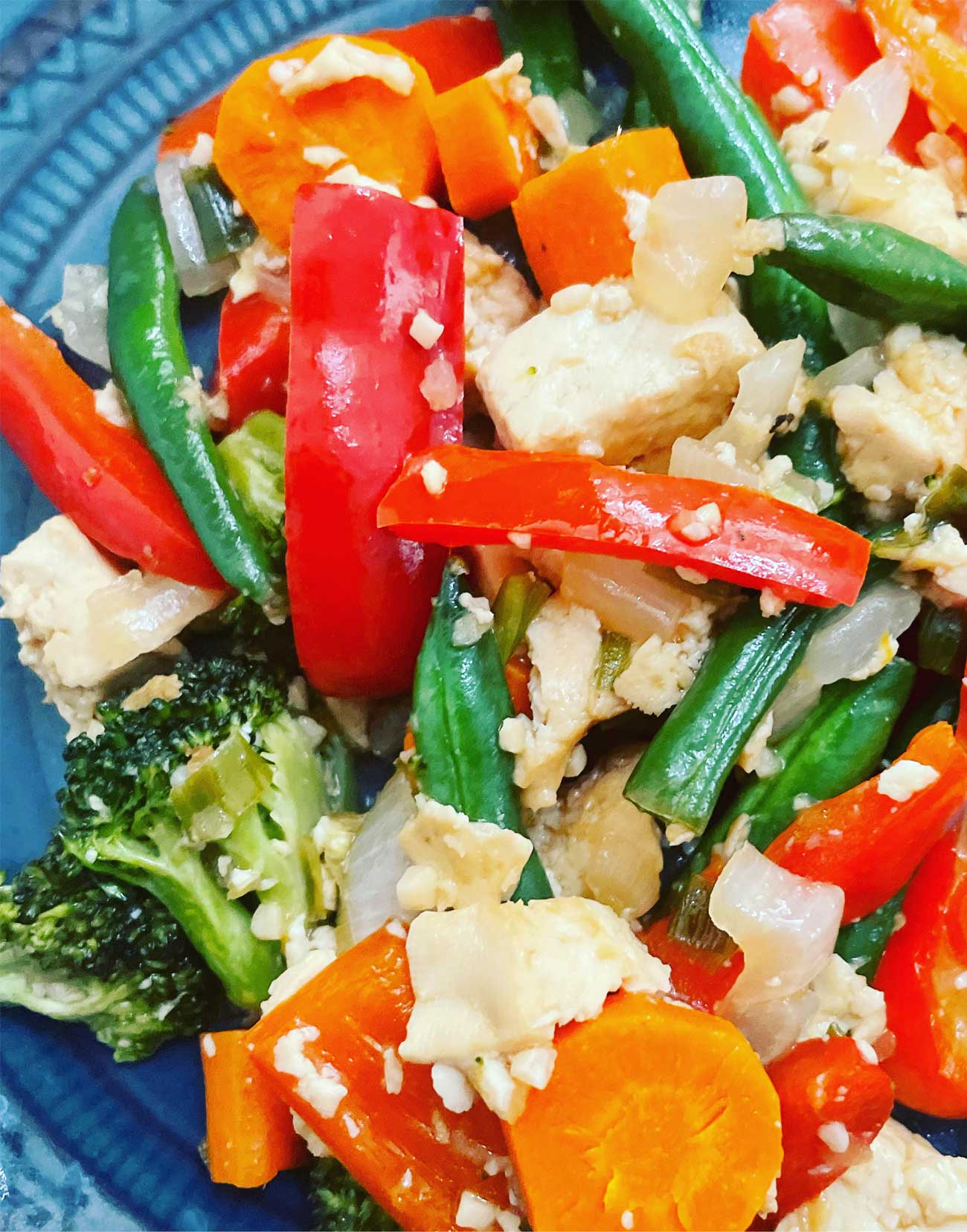 In this recipe, you are in control of the flavors, as you choose the perfect balance of seasonings to suit your taste buds. You'll love how easy it is to customize this tofu stir-fry to fit your preferences. As you cook, you'll find yourself immersed in the delightful sizzle of the pan and the enticing aromas that waft through your kitchen. When you sit down to enjoy your creation, you'll know you've made a dish that's uniquely yours, showcasing the fantastic fusion of textures and tastes you adore. So, what are you waiting for? Get ready to dive into a world where you call the shots, and every bite reminds you of the chef in you!
Adjust Servings
14

oz block extra-firm tofu, fresh

3

tablespoons low-sodium soy sauce

1.67

1 tablespoon & 2 teaspoons of sesame oil

0.50

teaspoon black pepper

2.67

2 tablespoons & 2 teaspoons of cornstarch

3

tablespoons extra-virgin olive oil, divided Kosher salt

3

cloves garlic, minced

1

tablespoon freshly minced ginger

8

oz string beans, trimmed

2

small carrots, sliced

1

small head broccoli, cut into florets

1

red bell pepper, seeded and sliced

2

green onions, thinly sliced

0.25

cup water

2

tablespoons packed brown sugar
1.
For Tofu:
In a medium pot of salted boiling water, simmer tofu for 2 minutes. Remove from heat and let drain in a colander lined with paper towels. When cool enough to handle, gently squeeze and pat dry.
2.
Cut tofu into bite-sized pieces, then toss together with 1 tablespoon soy sauce, 1 tablespoon sesame oil, and black pepper in a medium bowl. Once liquids are absorbed, toss tofu with 2 tablespoons cornstarch.
3.
In a large skillet over medium-high heat, heat 2 tablespoons olive oil. Add tofu and let cook until golden on all sides, turning occasionally, 7 to 8 minutes. Season with salt and pepper, and remove from skillet and set aside.
4.
For Stir-Fry:
Heat remaining 1 tablespoon olive oil, add in garlic and ginger and cook until fragrant, 1 minute. Stir in string beans, carrots, broccoli, red pepper, and green onions. Cook until tender, about 8 to 10 minutes. Season with salt and pepper.
5.
For Sauce:
In a small bowl, stir together 2 tablespoons soy sauce, 2 teaspoons sesame oil, water, brown sugar, and 2 teaspoons cornstarch. Return tofu to skillet and add sauce mixture to pan. Stir and cook until slightly thickened, 2 minutes. Serve and enjoy!