Disclosure: This post may contain affiliate links. This means, at no additional cost to you, I will earn a commission if you click through and make a purchase.
It is very important for any small or large business to tackle their online presence in order to thrive in today's economy. Some of the things you can do are simple and fast. But, other things you can do to improve your online presence can be hard and tedious, like starting a blog. If you're a small local business then things will be easier for you when ranking your company online. But, if you are a small business targeting the whole United States then obviously competition is going to be fierce. This guide will help you when competing for top rankings amongst the search engines whether locally or nationally.
Google My Business
Every small business should claim their company on Google My Business, formerly known as Google Places. Google My Business lets you create a business profile that attracts new customers. Your business profile appears right when people are searching for your business or businesses like yours on Google Search and Maps.
According to Google, local results are based primarily on relevance, distance, and prominence. These factors are combined to help find the best match for your search. For example, Google algorithms might decide that a business that's farther away from your location is more likely to have what you're looking for than a business that's closer and therefore rank it higher in local results.
Adding complete and detailed business information can help Google better understand your business and match your listing to relevant searches.
Google Search Console
Add and verify your website property on Google Search Console. Google Search Console is a free web service by Google for webmasters, formerly knows as Google Webmaster Tools. It allows webmasters to check indexing status and optimize visibility of their websites in order to make sure the pages of your website are showing up on Google.
There are two very important tools within Google Search Console. They are the URL inspection tool and the index sitemaps tools. This is how you get your pages to appear in Google's index. Otherwise, you are playing the waiting game with Google and waiting for your website to get indexed on the web.
The URL inspection tool I use mainly when adding new blog posts to my website. This tool will crawl your URL and submit the index to Google. It used to be called Fetch as Google a tool I used frequently to get a blog post on Google in less than five minutes. This can still be done with the URL inspection tool.
The index sitemaps tool is where you add your sitemaps to be indexed on Google. Once submitted, they are read on a regular basis to keep your website's pages up-to-date on Google. If using WordPress, you can install the free Yoast SEO plugin which has a sitemap feature to enable sitemaps on your website. All you have to do is copy the URL of these sitemaps and submit them to Google using the index sitemaps tool.
---
Add Your Business to Online Directories
Adding your business to directories will increase your chances of not only ranking within the directory itself but also ranking higher within the search engines. Just make sure to keep a consistent NAP (name, address, phone number) listed in the business directories and across your other local citation properties. Make sure every business profile is fully filled out with as much information as possible including photos and videos. The more information you fill in as your business profile the better you will rank amongst other businesses.
Yelp
Yelp provides you with a free suite of tools to showcase your business and connect you to the Yelp community. Some things you need to know about Yelp is that Yelp had a monthly average of 33 million unique visitors who visited Yelp via the Yelp app and 69 million unique visitors who visited Yelp via mobile web in Q4 2018. And Yelpers have written more than 177 million reviews by the end of Q4 2018. Now imagine if your business appeared in Yelp for your targeted category. What could that could do for your online presence?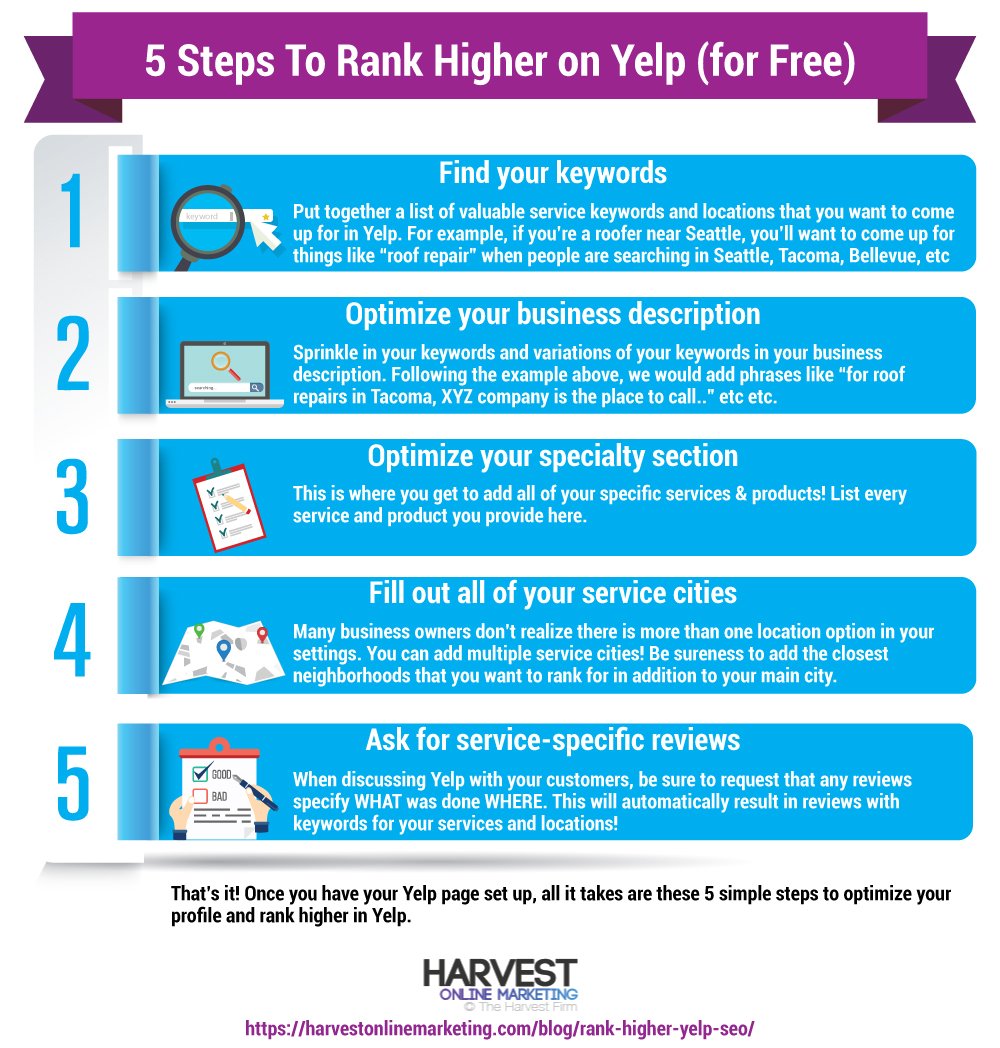 Image source: Harvest Online Marketing
Yellow Pages
Now don't go ahead and disregard Yellow Pages (YP.com) as Yellow Pages has many advantages to small businesses. One of them being SEO. Even if you don't get traffic from Yellow Pages it still worth advertising your business (for free) just for the backlink. Yellow Pages can be a good citation for a local business.
---
Claim Your Social Media Presence
A big part of your SEO campaign now comes from social media. Make sure to claim your brand or handle with the popular social media platforms like Facebook, Twitter, Instagram, Pinterest, LinkedIn, and YouTube. Having a social media presence is one thing but being social on your social media platforms is another. Make sure to share content from your business such as images, videos, infographics, and blog posts to name a few. Just check out this infographic that was shared by Lyfe Marketing, shown below. A great way to build a backlink is by creating supportive, informative infographics. Sharing content on your social media accounts will grow your following and help build your brand and increase traffic to your website. Google will take notice of this and rank your website higher within the search engine.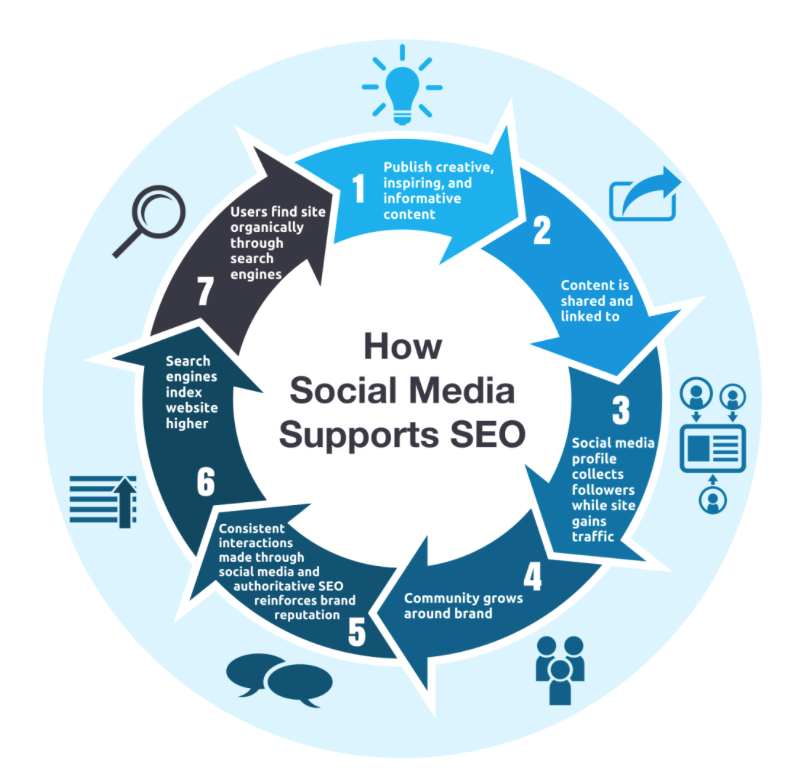 Image source: Lyfe Mareting
---
Acquire Online Reviews
Now that you have your business listed online and have a social media presence, you'll want to acquire online reviews. And I'm not talking about asking for them. Did you know that Yelp actually frowns upon Yelp business owners asking customers to review their business? It's in their business account guidelines. Because, over time, solicited reviews create bias on your business page. And now even Google has joined them in the fight against review solicitation, but slightly more lenient than Yelp.
Reviews may also have an indirect effect on SEO and your online business. For one, it will increase click-through rate, as users are far more likely to click on their business based on reviews alone. You'll also find that businesses with good reviews will have increased trust and a potential to convert users to customers. For it tells users that your business has had success, makes customer satisfaction a priority, and does good work.
So, how do you acquire online reviews? By advertising that you're on Yelp, "Hey our business is on Yelp!" Or sharing online reviews to social media like Facebook and Twitter. Your followers will start to get the idea and more reviews will appear. You can even get more Facebook reviews by encouraging your visitors or customers to check in on your Facebook business page. Facebook will send them a reminder to write a review (usually a day later).
---
Start a Blog
Now this is probably one of the hardest and most tedious tasks to improving your online presence but it could just be one of the most important tasks. Starting a blog will hands down improve your online presence if done right. Make sure to use on page search engine optimization tips to increase your chances of ranking higher on the search engine.
Once you've created a blog and completed your first blog post share it on social media platforms as mentioned above. If done correctly by providing informative, helpful information to your community or followers you should start to see an increase in traffic to your website.